Sailing the Lunaseas!
Welcome to the homepage of Kirsten Maloney.
This is my first foray into designing a web page, and I wanted to share some of my creations with those who surf the web. I have my boys Eoin and Bryan Connor, and when time permits I have some artwork. I have been known to do both character drawings and artwork for roleplaying games, so if you're interested, take a peek!
I have a resume too, if you want to know what I'm doing when not doing the full time job of chasing children. Below are pictures of Bryan Connor, born on 12/12/97 and of Eoin enjoying himself during Easter of '96 trying to get his "MommyCritter" candy-coated!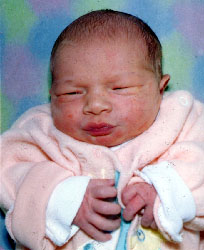 My husband has added more pictures of the boys on a temporary page until I do things like eliminate the dreaded red-eye from the snapshots.
As for hobbies, I have my artwork, roleplaying games, various crafts, mushing, helping my husband brew beer, French & Indian War reenactment, and rotting my brain on such shows such as Xena, Dr. Who, Star Trek:Voyager, and Babylon 5.
---
Here's me and my husband on our wedding day, October 9, 1993. I kissed him even though he had the warmer skirts!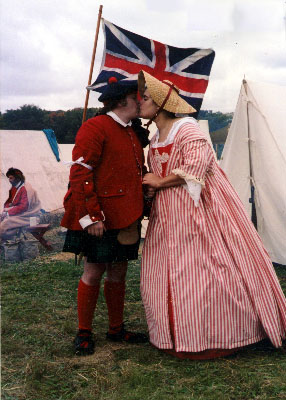 If you want to talk to me, you can email me at jacobus@gizmo.star-link.net. or you can leave a message in my guestbook.